Copyright ©2005-2019
KORE3 Industries LLC
All Rights Reserved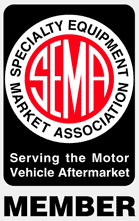 Does the guy or gal behind the counter at the auto parts store roll his eyes when you walk in the door? Just because you've swapped engines, trannies, axles, brakes and who knows what else in your ride, doesn't mean that it has to be difficult to get safe, quality brake lines for your custom application...FlexKORE™ brake lines.




FlexKORE™ brake line kits for your stock or semi-stock car or truck. All pre-kitted brake line kits replace the factory rubber hoses on your vehicle for improved performance, feel, and safety.

Note: Lengths can be adusted for lifted, lowered, or otherwise altered applications that still resemble stock components. Please see our custom brake lines if you do not see your application.




All the little pieces needed to complete your brake system: banjo bolts, crush washers, brackets, clips, etc.



KORE3 News:

Notice: C6 Z06 caliper availability is limited. Please contact us for current stock and color options.
KORE3 is now offering products by Hydratech Braking Systems™, the industry leader in hydraulic brake assist conversions for the pro-touring market. While we're updating our website, please let us know if you have any questions concerning their hydraulic brake assist systems.

- Big-Brake Kits
- Billet Aluminum Hubs
- FlexKORE™ Hoses

Upcoming Closures:
KORE3 will be closed Dec 23rd, 2019 - Jan 1st, 2020. We will be checking and responding to emails intermittently during this time if you have any sales or technical questions.


KORE3 Industries LLC
32885 HWY 99E
Tangent, OR 97389

Tech: (541) 924-5673
Sales: (800) 357-5467
info@kore3.com